Remember the feeling of a brand-new Mac? A Mac without rainbow wheels. A Mac that didn't cause headaches or frustration. Does your Mac suffer from the following ?
Mac booting up slower
Overheating computer
Browser crashes
Frequent "beach-balls"
These simple steps I will share with you after won't take much time but will greatly help to improve your Mac's performance. If you do these activities regularly, you won't have to worry about the need to speed up your Mac again.
So, here are the proven 10 ways to make your Mac run faster.
1. Find resource-hungry processes
Some apps are more power-hungry than others and can slow your Mac to a crawl. To see which apps are eating up your system resources, use Activity Monitor. You can open it from the Utilities folder of your Applications folder or use Spotlight to find it.
How to use Activity Monitor to speed up Mac
Activity Monitor details five different resources: CPU, Memory, Energy, Disk, and Network usage.
If your Mac is running slowly, pay special attention to the CPU section. It shows how processes affect the CPU (processor) activity. When you're running intensive apps, like video editors or games, they may use more of your CPU capacity. Those apps will be listed at the top of the list in the CPU tab. If some app is using a lot of CPU power, you can quit it: select the app or process and click the "X" in the left-hand corner of the Activity Monitor.
The Memory tab shows how much memory each process or app is using. The Memory Pressure graph at the bottom of the window helps understand whether your Mac manages memory efficiently. If it's green, you shouldn't worry. But if it turns yellow or red, it means your Mac's running out of free RAM — close the apps that are on top of the list if you don't need them running.
It's also important to check the Energy tab. The most battery-draining apps will be listed first — see if you need them running. Otherwise, quit those programs to prolong the time between charges.
There are also system processes listed in the Activity Monitor. These usually have words like system, helper, assistant, and core in their names. To display them all, go to the View menu and select System Processes.
2. Close Apps you aren't using

It may seem obvious, but it is something that is often overlooked. If your computer is running slow, look at all the apps you have open.
Do you really need Mail and the App Store running in the background? Can you cope with having Calendar, Reminders, and Notes closed when you're not using them? If so, close them. Once you quit the apps you don't need, your computer will have more RAM , which helps run the apps you are using much more smoothly.
The easiest way to see which apps are running is by looking at the Dock on the screen's bottom. If the program is running, it will have a dot underneath.
Another option is to press Command + Tab and see which apps are open in the App Switcher.
Close all unnecessary apps by right-clicking on the Dock icon and choosing Quit, or select the app and press Command-Q if you use the App Switcher.
3. Run maintenance scripts
Maintenance scripts are internal service tasks of the macOS itself. macOS runs them periodically to fix various system errors and inconsistencies. For example, they reindex certain databases for smoother Mac performance.
If your Mac responds with delays, you can force-run the maintenance scripts via Terminal.
Note: you will need an administrator password to run maintenance scripts through Terminal.
Open Terminal either through the Spotlight search or by navigating to the Utilities folder in Applications.
In the Terminal command bar, enter
sudo periodic daily weekly monthly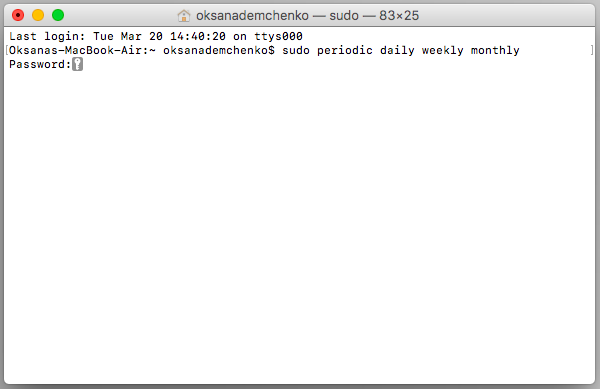 Enter the above text. Press Return, and you will be asked to enter your administrator password. For security reasons, your password will not appear onscreen.
Your Mac will then perform three maintenance scripts. There won't be a status bar or percentage to show that the scripts are being run, but you'll know they're complete when the Terminal prompt returns.
4. Manage your startup items
It goes without saying that a clean startup helps speed up slow Mac. When your Mac launches faster, it takes less time to do anything. No waiting for Safari, Chrome, or Firefox to open — they open instantly. How do you get such speed? Well, when your Mac boots up, it runs a lot of unnecessary apps. But it's quite easy to take control of it. Go to your System Settings > General and then click Login Items. Now, find a program you don't immediately need when your Mac starts up and disable it.
There are also unseen apps called launch agents that may slow your Mac down. For example, your internet download speeds suddenly plummeted. How to speed up downloads on Mac? Delete background agents that cannibalize your internet speeds. They can be disabled from the Login Items pane as well — just make your way through the apps allowed in the background.
5. Uninstall unused apps
Another proven way to speed up MacBook Pro, MacBook Air, or iMac is to uninstall the application you don't need anymore. So, how to remove unwanted apps on your Mac? You may be surprised to find out that simply dragging them to a Trash bin is not enough. It leaves gigabytes of junk behind. Dragging documents and movies to Trash works fine, but apps should be uninstalled completely.
Whether you're running a newer macOS, such as Ventura or Monterey, or an earlier macOS, like Catalina or Mojave, the process of manually uninstalling apps remains relatively similar. Here's what you need to do:
Open Finder > Applications.
Choose the app you want to delete.
Press Command + Delete (⌘⌫).
Empty the Trash by clicking the Empty button in the upper-right corner of the window.
And the app is gone
6. Reindex Spotlight
If you recently updated your OS, you would be aware of the slowness that occurs when Spotlight is indexing. This only takes a few hours, and then your Mac will be fine. But sometimes, the indexing gets stuck, and you need to speed up a Mac. To solve this problem, you need to reindex Spotlight by going to System Settings > Siri & Spotlight and clicking Spotlight Privacy at the bottom of the window.
Now drag your hard drive from Finder into the Privacy List. Once added, remove it by clicking the "-" sign. The indexing will start again, but hopefully, after a few hours, it will finish properly and boost your Mac speed.
---
7. Free up your RAM with Terminal
If you have no memory slots or are not able to upgrade it, you can free RAM instantly with Terminal. You can apply this trick when your system is running out of available memory. In other words, when a particular app freezes up and desperately needs some fresh memory. Follow these steps:
Open the Terminal app via Launchpad.
Paste in the following command: sudo purge
Press Return.
You will be asked to enter your system password.
---
8. Empty the Cache
Cache files are temporary data used to speed up processes. For example, a web browser will cache web pages to download a website faster when you revisit it. Sounds great, right? Actually, it is, but there is always a "but." Over time, these cache files take much storage on your Mac, and instead of speeding things up, they slow your computer down.
Empty system cache on Mac:
Potential space reclaimed: Up to 10%
Let's start our cache-clearing journey by deleting system cache files — files built-in macOS system services generate for proper operation. To locate them, open the Finder, and from the Go menu, choose Go to Folder. Now, paste /Library/Caches and press Return.
If you want to find out how much space it occupies, right-click the Caches folder and choose Get Info from the menu. You'll see the size of the folder in the info window:
To remove system cache files, browse through the com.apple folders you see and send files to the Trash. Note that only files can be deleted — keep the folders.
Empty user cache on Mac:
Potential space reclaimed: up to 70%
Did you know that the single-user cache folder may take gigabytes of space? On my Mac, it's almost 3 GB, and it's just one folder. So, it's a good idea to remove user cache to reclaim valuable space and speed up your Mac.
To clear your user cache manually, do the following:
Open the Finder, and from the Go menu, select Go to Folder.
Type in ~/Library/Caches and press Return.
Optional step: Copy all the files to a different folder if something goes wrong.
Make your way through each of the folders and clean out everything.Note: Delete only the files from the folders, and do not send the folders themselves to the Trash.
Don't forget to empty the Trash afterward. Just control-click on the Trash icon from the dock and choose "Empty Trash." Now, restart your Mac, and it will create new cache.
Empty application cache on Mac:
In the previous step, we've removed user cache. But, as we mentioned, apps also generate cache files, so you may delete them as well. Some users believe these files are needed; still, deleting them is absolutely safe.
Some apps may create more cache than others, for instance, Spotify, Xcode, and Steam. But removing it is still a piece of cake.
You can get rid of the app cache on Mac by going to ~/Library/Caches from the Go menu of the Finder like we did before.
There, you'll find different app cache — for example, com.spotify.client stores Spotify cache.
Clear up these folders like we did with user cache: press Command-A to highlight all files, then right-click them and move to Trash.
Delete browser cache on Mac:
Potential space reclaimed: up to 15%
Once you've gotten rid of system and user cache files, you can then proceed with browser cache. This will depend on what Browser you're using but for this case let's stick with the default one "Safari".
Deleting cache files in Safari is not as straightforward as in other browsers. However, it's still not too complex if you follow the steps we outline. There are two ways to do it. The first one is by navigating to History > Clear History in the menu bar. This way, though, you'll lose your history — information about visiting the websites you may need some time in the future.
If you want to keep history, here's another way to clear cache in Safari:
Open Safari and go to Settings from the menu bar.
Navigate to the Advanced tab and make sure that the box next to the "Show Develop menu in menu bar" option is checked.
Quit Settings.
Now, navigate to Develop > Empty Caches.
Finally, restart the browser. Note that you'll have to enter your login info once again, as it will be removed along with the auto-fill details. Let's move on to the next browser.
9. Turn off visual effects
A great tip to help you when you wonder how to speed up your Mac is to turn off visual effects. Sure, they look pretty, but who cares if your Mac is running slowly? Turning off some of the features can greatly speed up iMac or MacBook.
Here's how to speed up a Mac by turning off some visual effects:
Click System Settings > Desktop & Dock.
Disable the following options: "Animate opening applications," "Automatically hide and show the Dock."
Next to the "Minimise windows using" option, change the Genie effect to the Scale effect.
---
10. Clean up Mac's hard drive
If you want the most bang for your buck, cleaning your hard drive is by far the best and easiest way to speed up MacBook or iMac. Go through your hard drive and clean out everything that is slowing it down. But what is slowing down my Mac? What to look for? Caches, logs, apps, widgets, hidden trash, and large and old files.
Extra step: Delete large unused files
Think of a car that has a heavy load in the trunk. For all its engine power, it cannot really go fast. The same happens on your Mac — only your disk is stuffed with heavy files.
Go to System Settings > General > Storage.
Click the i icon next to the Documents.
These should be your largest space-wasters. In my case, these are movie files. Review these and move them away onto an external drive.
Youtube Video: